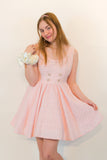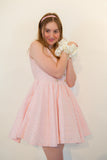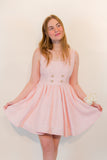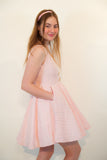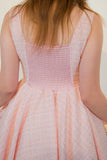 Fairy Floss Skater Dress
Meant for movement, the Fairy Floss Dress is an elevated skater dress, perfect for a sporty Princess look at the tennis court. Luxe gold and white decorative buttons glisten with embedded rhinestones for a royal touch. This unique pink tweed features metallic and iridescent thread. This sleeveless dress allows for breathability and soft lining to keep you cool so no worries! Pockets included.
Model wearing size M.